Premium Paint By Numbers
Proud American Company
10,000+ Verified Reviews
FREE Priority Shipping 3-5 Days*
Rolled or Framed Kits
What Do Our Customers Think?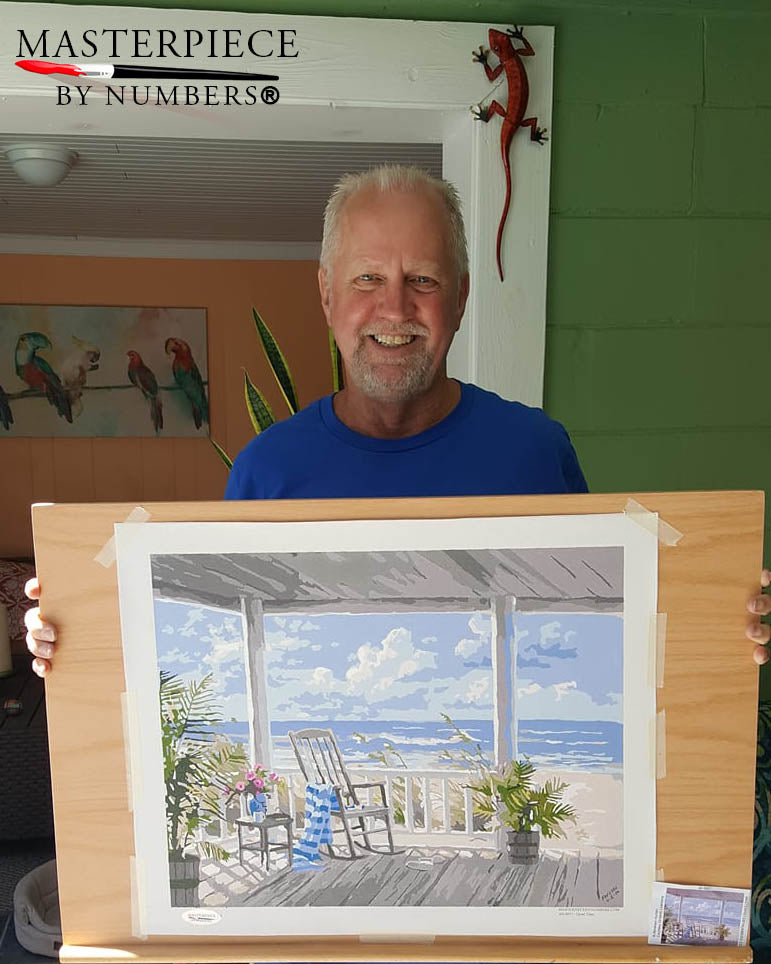 Freddie Ball
🌟 🌟 🌟 🌟 🌟 

'Just finished my second painting, Quiet Time. Looking forward to my next one.'
Quiet Time is our most popular painting and like every one of our kits, is exclusive to Masterpiece By Numbers. We license all of our paintings and pay royalties to the original artists.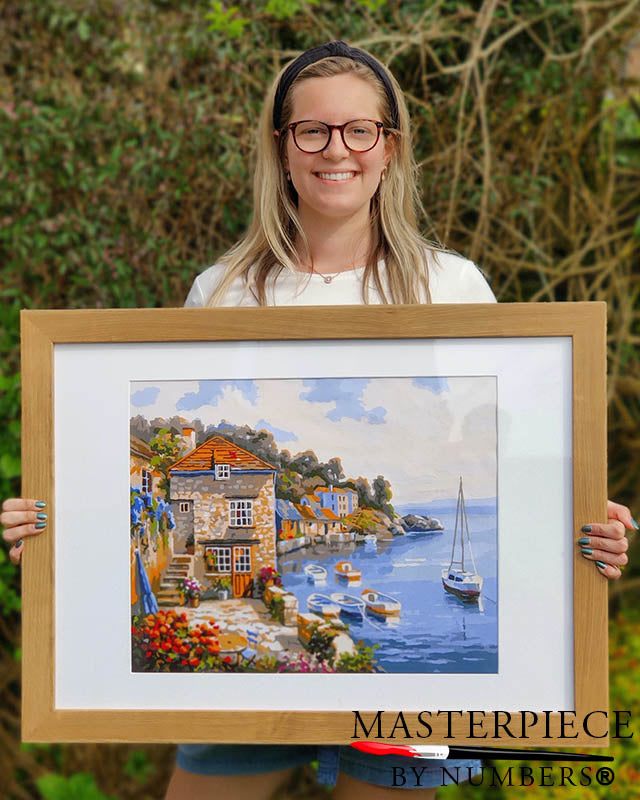 Louisa - First Time Painter
🌟 🌟 🌟 🌟 🌟 5 star review from Louisa: Harbor Garden

'Absolutely loved painting this! Wonderful sunny picture! So enjoyable and relaxing! My first one. I've got two more paintings waiting, started one and I've ordered another 3! The addiction is real!'
Dolores, 85
'My name is Delores J. I am 85 years old and have painted around 13 pictures from your company.
This is my granddaughter. I am very pleased with the outcome and in the process of painting another one. I am very excited each time I receive another painting from you because they are of such high quality.
My family and friends all give rave reviews to the finished work.'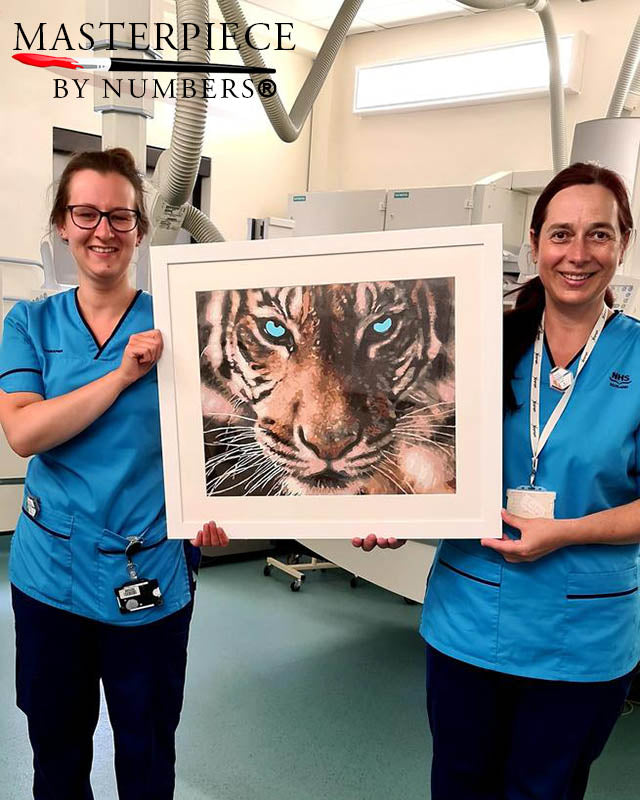 Catherine O'Neill - X-Ray Art
🌟 🌟 🌟 🌟 🌟 5 star review from Catherine O'Neill: Blue Eyes
The radiographers in Perth Royal infirmary completed this stunning artwork recently. The painting by numbers was a great as a way to de-stress during these difficult times. Radiographers Danielle and Renata are pictured as they were the most prolific artists! We have 2 more big cat paintings to do and they will be displayed for staff and patients benefit in the x-ray dept. The resulting picture totally surpassed my expectations. The kit was good quality and the company highly recommended.
See All 125+ Reviews For Blue Eyes Here
MBN now donates all paintings to these wonderful healthcare workers.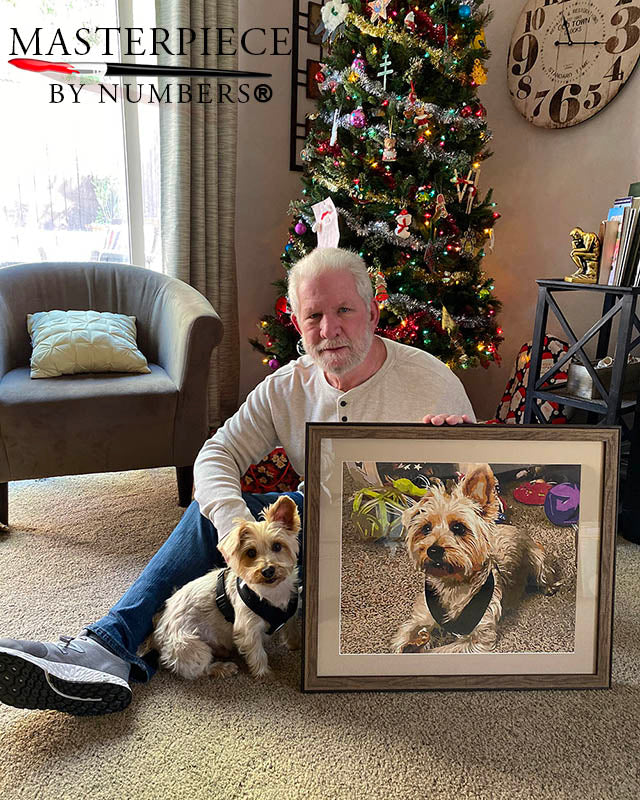 Jim - Custom Painting
🌟 🌟 🌟 🌟 🌟 
'My husband Jim finished this painting for our son and daughter in law, of our granddog Kingston, just in time for Christmas. A true Masterpiece!
Thought you would like to see it.
Thanks, Nancy'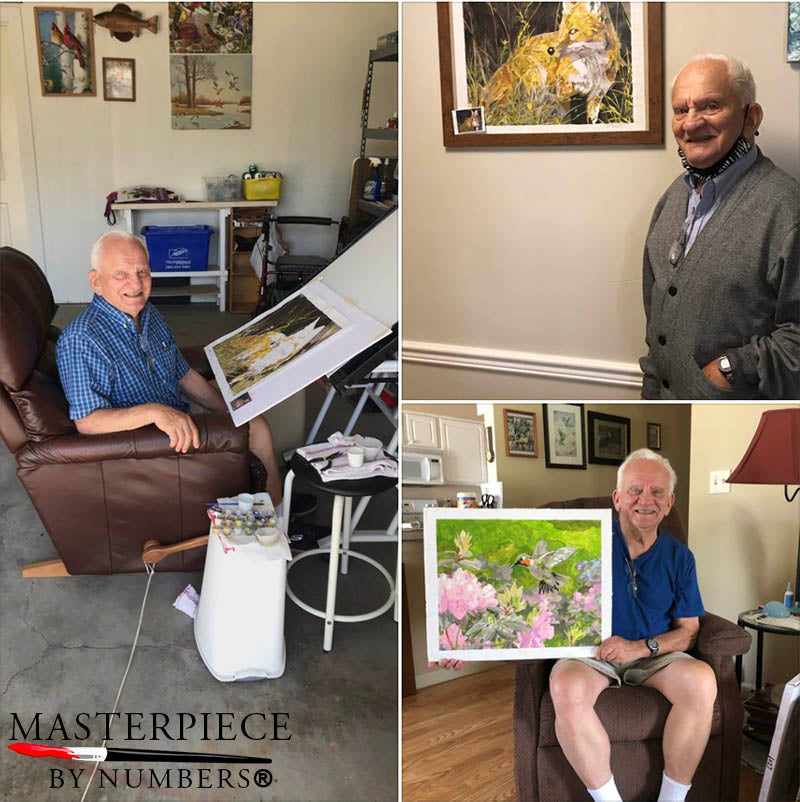 Frank Rogers, 91
🌟 🌟 🌟 🌟 🌟 
'My Dad, Frank Rogers, 91 of Rochester, NY has been painting your pictures for the last 6 months. He is a changed man!He used to sit many hours in a chair in the living room watching the day go by. Now he has an art studio table set up in the garage where he has bright purpose. When completed with his pictures Frank shows a great sense of accomplishment. He proudly takes the pictures to the independent homes main building where they are beginning to display his paintings on the wall to show the others of his artistic ability.He loves the attention and feels loved by his special talents. It gives him a real purpose in his golden years. We are grateful for your business and please pass on to others to enjoy.'
Richard Rogers (Son) from Arizona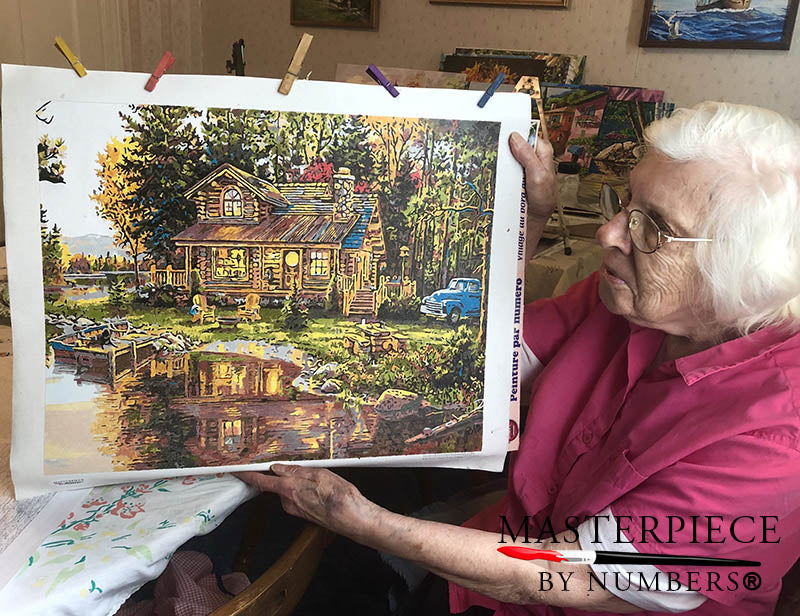 Roxy Ross - 96 Years Young
🌟 🌟 🌟 🌟 🌟 5 star review from Thomas Ross: Peace River Cabin
'I got this painting for my 96 yr old mom who has been painting for decades in oils but switched to acrylic paint by numbers. She thoroughly enjoyed doing this painting and actually finished it fairly quick. I ended up ordering her 3 more and she has one 3/4 done. Her eyes and hands are still very good and only occasionally has to use a hand magnifying glass.'
What Makes Masterpiece By Numbers Different?
Most importantly - We are proud to be an American company.
We support our military and respect those who serve and those who made the untimate sacrifice for our freedom.
All of our employees are in Florida and we pay our taxes to Uncle Sam.
Our offices are in Florida and we ship all orders by 2-5 day priority, tracked mail.
You can contact us by email, telephone or messenger and you will be replied to by an American customer service representative, who will be delighted to help you with any questions you may have.
Email: support@masterpiecebynumbers.com
Call: 727 605 0500
We are the only paint by number company with American owners and workers!
Supporting Our Veterans
We work with our local VA (Bay Pines) to donate MBN kits to be used as gifts for the regional winners of the National Veterans Creative Arts Festival. We are so proud to support this wonderful cause. The welcome and gratitude shown by the veterans at Bay Pines is truly humbling.
MBN is a gold level sponsor of the National Veterans Creative Arts Festival.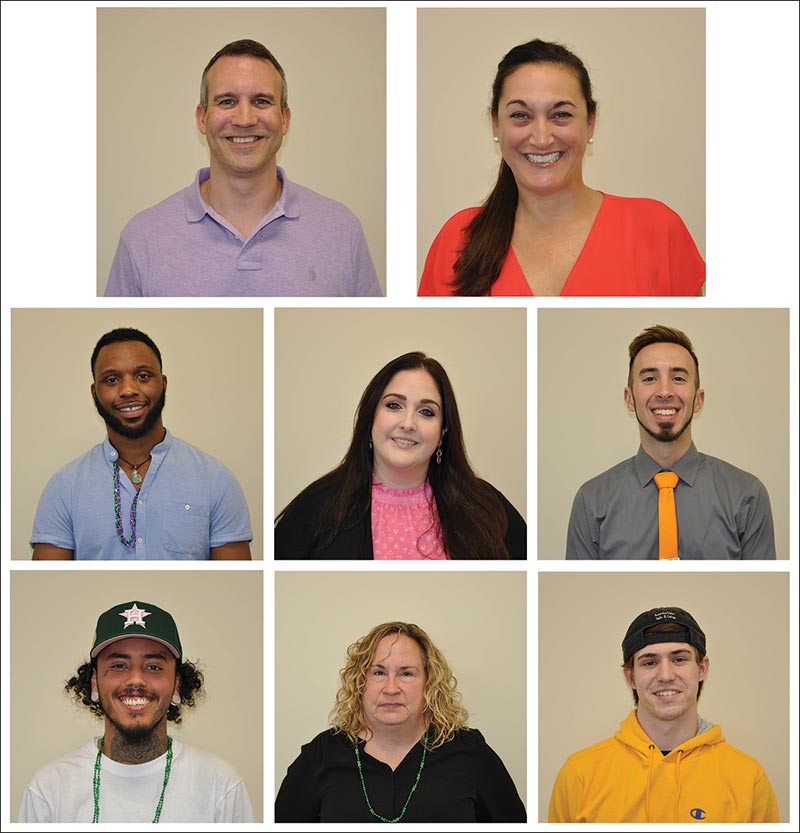 Meet The Team
We are a happy and hardworking bunch here at MBN. We strive to provide the best possible products and service levels for our fantastic customers.
Having a great team makes work fun. We love what we do (excuse the beads, we were having a Mardi-Gras lunch when these photos were taken).